As well as the beautiful, long, sandy beach of Marina di Campo, we wish to give you the names of other very beautiful nearby beaches on the island, some very crowded, others less: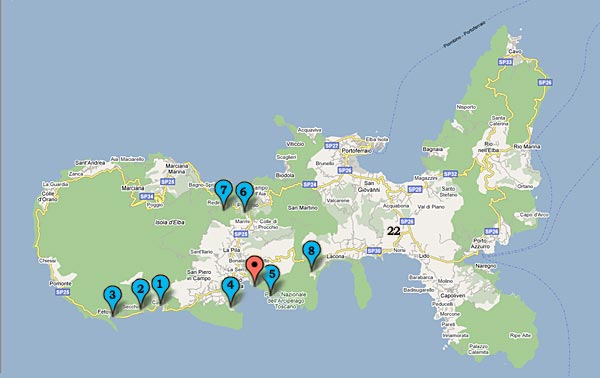 1) Cavoli
Thanks to its fine sand and crystal clear water, this beach is one of the best known on the island, as well as one of the most popular among teenagers.

2) Seccheto
Small sandy beach with flat cliffs on either side, forming platforms and little natural pools that are perfect if children want to play.

3) Fetovaia One of the island's most popular beaches, famous for its golden sand, crystal clear water, and the long, narrow piece of land that stretches out to the open sea, making it, however, also one of the busiest beaches in August.

4) Galenzana
The beach is always very quiet because isn't very easy to get to, so it is perfect if you love being in close contact with nature and want peace and quiet: you have to follow the path - for pedestrians only - that starts off at the port in Marina di Campo and go over the hills.

5) Fonza
A beach where nature is still untouched in the Gulf of Marina di Campo. Fonza, on the opposite side of Galenzana is in a completely natural setting. The long beach consists of smooth, medium sized pebbles, while the sea bed consists of sand.

6) Procchio
The bay in Procchio is long, and the golden sands beach has a fully equipped bathing establishment to meet with everybody's needs.

7) Paolina
This beach is called after Paolina, Napoleon's sister, because this is where she most loved to go swimming. It is a small, sandy beach on the road to Marciana Marina, just 2 km from Procchio.

8) Laconella
A truly beautiful and peaceful little sandy beach, offering 250 metres of total freedom where nature is still untouched. Ideal for those who seek peace surrounded by nature.